How Much Does Xeriscaping Cost?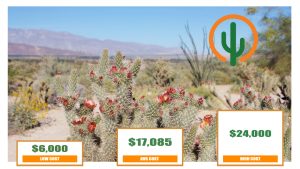 On average, the cost to xeriscape a typical 1,200 sq. ft. yard is $17,085. Prices can range anywhere from $6,000-$24,000 depending on the size of the project, according to Fixr.
Average Xeriscape Installation Costs
Here is a look at typical xeriscaping costs across the U.S.:
National Average Cost: $17,085
Average Range Of Costs: $16,000-$18,000
Minimum Cost: $6,000
Maximum Cost: $24,000
Cost To Xeriscape A Yard
The cost of xeriscaping a yard can vary based on several factors, including plant choices, yard size, irrigation, soil and hardscaping. Hiring a designer to plan out the project ahead of time can be helpful, but this will add on to your total cost. Prices can be broken down by the 7 steps of xeriscaping outlined below.
Planning And Design
A landscape designer hired to plan the xeriscaping process may charge up to $200 per hour. Xeriscaping can be quite a difficult process, so careful planning is essential.
Mulch
Mulch is often utilized in xeriscaping because it helps to hold in water and prevents evaporation. Delivery for a 500 sq. ft. range costs between $200-$500.
Concrete Slabs
To form a walkway of concrete slabs in your yard, the cost can be a bit much, but this will give your yard a truly unique look.
Drought-Tolerant Plants
Plants that are well adapted to the region can reduce water use and will require no supplemental irrigation. Prices will range based on the type and size of the plants.
Soil, Rock And Stones
The biggest costs for these items will come from the delivery. 20 sq. ft. of river rock can cost as much as $1,000 to deliver.
Turf
Replacing natural grass with artificial turf will help conserve water.
Irrigation System
An irrigation system will be optional for xeriscaping projects. Some homeowners prefer to rely on rainfall, but those living through extremely hot summers should invest in an irrigation system.
Xeriscaping Cost Per Hour
A professional landscaping service is necessary for xeriscaping since they will know the region's native plants and what's needed to achieve water conservation. A typical landscaper will cost from $50-$100 per hour, with a maximum cost of $200.
Xeriscaping Cost Per Square Foot
Xeriscaping costs are usually calculated by square footage, and the price will include all labor, plants and supplies needed. Typically, costs will range from $5-$20 per sq. ft.
500 sq. ft. Total Cost: $5,500-$7,500
1,000 sq. ft. Total Cost: $11,000-$15,000
1,500 sq. ft. Total Cost: $16,500-$22,500
Cactus For Sale In Arizona
If you are interested in increasing the beauty of your landscape by buying desert plants, stop by our convenient location at 33840 N. Cave Creek Rd., in Cave Creek. For customers interested in our landscaping services, give us a call at (480) 488-9455 to schedule a visit to your home.
More Articles About Xeriscaping