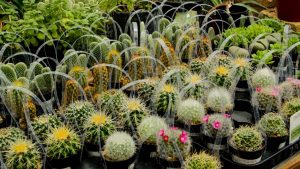 If you need some great ideas to spruce up your desert landscape, Desert Foothills Gardens Nursery is here to help!
7 Great Desert Landscaping Ideas
Try out as many of these ideas as you wish for your Arizona home:
Raised Cactus Beds
Add Lighting
Rows Of Cacti
Show Off Your Succulents
Blown Glass Yard Art
Palm Trees
Purple Perfection
Raised Cactus Beds
Raised cactus beds are perfect for homeowners looking to protect children and/or pets from the cactus spikes. Planting the cacti on raised beds is one solution to this potential problem. Cactus beds will thrive in the desert climate, just make sure you are supplementing the lack of rainfall with occasional waterings. Raised beds are the best way to showcase these unique plants without having to worry about harming anyone or anything.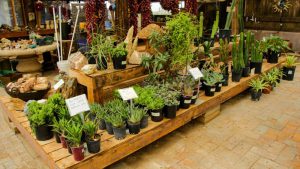 Add Lighting
Adding appropriate lighting for the nighttime is a great and cost-effective way to showcase all your garden has to offer. Lighting will instantly create a mood to your front and/or backyard. These lights have now become a year-round feature around a lot of desert homes, instead of just a holiday tradition. Solar lights may be the most popular choice for Arizona homeowners since these lights power themselves thanks to sunlight.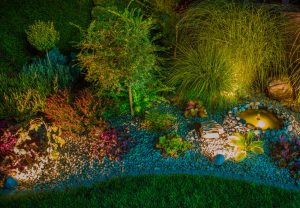 Rows Of Cacti
Infertile soil is unfortunately common in desert gardens. Poor quality soil is also very common in certain areas of the desert, as well. If you do not intend on constantly working on the soil, potting your cacti is a great alternative. Cacti typically grows very well within containers. The next task is to make the potted plants look as aesthetically pleasing as possible. Put the pots in a row for a unique and modern look.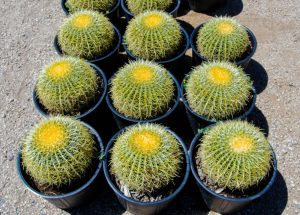 Show Off Your Succulents
Desert gardens have a reputation of being not particularly flashy in terms of colors. This does not have to be the case with your desert landscape, though! Don't fall into the pattern of putting the same dull colors in your yard. Add succulents of varied colors to your landscape. Succulents can come in various shades of orange, blue, green and even purple. Nurseries all over the southwestern U.S. have a wide selection of succulents.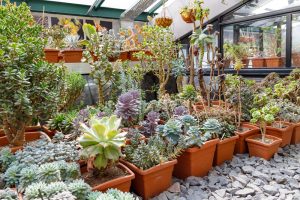 Blown Glass Yard Art
Give your yard a more unique and luxurious feel by adding blown glass yard art to the area. Typically, this can be one of the last steps when designing your garden. Find out exactly which space(s) can be filled with yard art found at desert nurseries. If you're looking to add color to your yard and have opted against purchasing succulents, these ornaments can be a perfect alternative to bring your garden to life.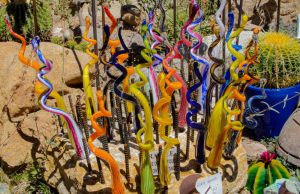 Palm Trees
Some small areas of the yard can be extremely difficult to figure out how to utilize. What should you do with the space; should you add some sort of plants? A perfect way to use the space would be to add some petite palm trees. Tight spaces won't necessarily require ground-level plants. Instead, petite or dwarf palms are ideal for these areas. To give the place a more modern look, plant the palm then surround it with small white pebbles.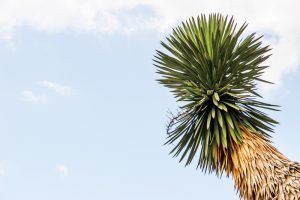 Purple Perfection
Purple is perhaps the most unique color one can find in a desert climate. Purple gravel spread throughout your property will really make any and all plant life stand out. Purple provides the perfect contrast against the green of the foliage. If purple is not your favorite color, consider choosing any color other than brown to use as the foundation. Add one unique color and leave the rest of the property as natural as possible.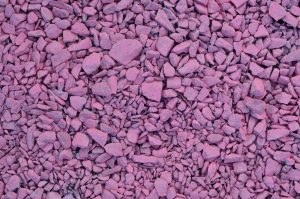 Desert Plants For Sale
If you are interested in increasing the beauty of your landscape by buying desert plants, stop by our convenient location at 33840 N. Cave Creek Rd., in Cave Creek. For customers interested in our landscaping services, give us a call at (480) 488-9455 to schedule a visit to your home.
More Articles About Arizona Landscaping