Where To Buy Saguaro Cactus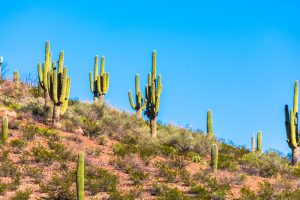 If you are searching for "saguaro cactus for sale", look no further than Desert Foothills Gardens Nursery in Phoenix! This article includes costs and tips for taking care of these unique desert plants.
Where To Buy Saguaro Cactus In Phoenix
Desert Foothills Gardens Nursery has been a leader in saguaro cactus sales since 1985! The experts here can take care of all your indoor and outdoor gardening needs. The saguaro cactus is, by far, one of the most popular desert plants in the entire valley. This cactus is comprised of tall, thick, fluted, column like stems, around 18 to 24 inches in diameter, usually with several large arms curving upwards in the most distinctive arrangement of all the Southwestern desert cactus.
The saguaro skin is usually a little waxy and smooth, and the stems and trunk typically have stout, two-inch spines grouped around their ribs. When water is soaked up, the outer pulp of the cactus expands somewhat like an accordion, widening the diameter of the stem and, sometimes, can supersize its weight upwards of a ton.
Check out our extensive selection of saguaro cactus and other succulents right here.
Cost Of Saguaro Cactus
A saguaro cactus will cost an average of $100 per foot, according to DFRanchandGardens.
Here is a look at typical saguaro cactus costs by size:
6 in Saguaro Cactus: $20.00
12 in Saguaro Cactus: $40.00
18 in Saguaro Cactus: $75.00
24 in Saguaro Cactus: $150.00
3ft–7ft Saguaro Cactus: $80/ft
8ft–20ft Saguaro Cactus: $100/ft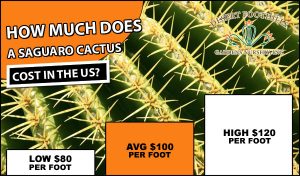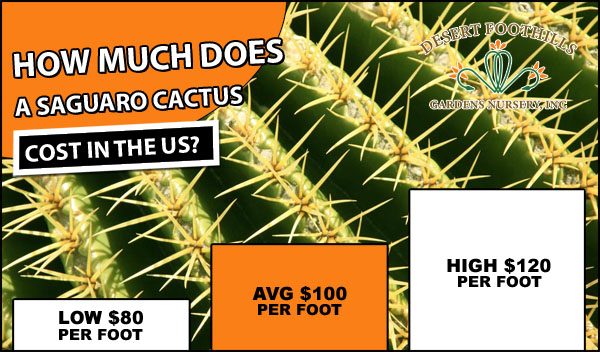 Taking Care Of Cactus
These are four simple tips for giving your cactus its best life possible:
Water the cactus when needed
Sunlight exposure
Choose the perfect pot for the cactus
Find the right fertilizer
Location is key for your cactus, especially if you decide to keep it inside your home. Since cactus are found in the desert, one would be wise to guess this plant needs a ton of sunlight to flourish. Cacti can be burned, though, so make sure you exercise good judgement on what is enough sunlight but not too much. Sunlight and hydration go hand in hand. The common belief is cacti do need water but not as often as one thinks. This couldn't be further from the truth. Cacti do need regular waterings; they can however survive droughts. Give your cactus plenty of water to keep it from going into survival mode. A minimum of 1/4 cup of water every other week should be enough to keep the cactus healthy.
Before purchasing any sort of cactus, take a look at the pot that surrounds the plant. Is this is the best possible pot size and shape for your home's new addition? You want to give the cactus the proper amount of room to grow, expand and thrive. You should invest in a pot that features drainage holes. This will require more care, but it is very beneficial for the cactus. Even with the drainage holes, it is still important to not over-water the plant.
Cacti need a very efficient soil, draining the area of any and all excess water. You'll want your dirt to be as dry as possible. Cacti can also benefit from fertilizer. These plants crave the nutrients provided by fertilizer. Providing the cactus with a light supply of fertilizer during each watering is suggested. Use the fertilizer more often in the warmer months and sparingly during the winter.
Desert Plants For Sale
If you are interested in increasing the beauty of your landscape by buying desert plants, stop by our convenient location at 33840 N. Cave Creek Rd., in Cave Creek. For customers interested in our landscaping services, give us a call at (480) 488-9455 to schedule a visit to your home.
More Articles About Arizona Landscaping