10 Incredible Saguaro Cactus Facts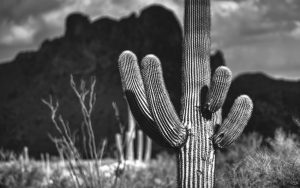 Native to the Sonoran Desert, the saguaro cactus is one of the most fascinating plants in the southwestern U.S. If you are searching for "saguaro cactus facts", this post is for you!
Facts About Saguaro Cactus
Here are some interesting facts regarding this unique plant:
The saguaro cactus only grows in the Sonoran Desert.
Saguaros can live up to 200 years.
Saguaros can grow up to 25 arms.
Saguaros only grow 1.5 inches in its first 8 years of life.
This is the largest cactus found in the U.S.
Adult saguaros can weigh up to 6 tons.
Saguaros won't grow flowers until they are at least 35 years old.
Saguaros are also known as Carnegiea Gigantea.
The roots expand like an accordion to absorb water.
Saguaros produce red fruits in the summer.
Fact 1: The Saguaro Cactus Only Grows In The Sonoran Desert
This is true, but it does not mean the saguaro can grow in every part of the Sonoran Desert. Due to freezing winter temperatures and elevation, saguaros only thrive in certain areas of the desert. Saguaros tend to not live in any areas above 4,000 feet in elevation.
Fact 2: Saguaros Can Live Up To 200 Years
Most saguaros have a lifespan of 150 to 200 years. The oldest known saguaro was discovered in Arizona, living as long as 300 years, according to Cactusway. The cactus died of a bacterial infection more than two decades ago.
Fact 3: Saguaros Can Grow Up To 25 Arms
Saguaros develop more and more arms as they age. The total number of arms can reach up to 25, although some saguaros never grow arms at all!
Fact 4: Saguaros Can Only Grow 1.5 Inches In Its First 8 Years Of Life
A study by the Saguaro National Park found that saguaros only grow between 1 to 1.5 inches in their first 8 years. Growth rate after that very much depends on climate, location and precipitation.
Fact 5: This Is The Largest Cactus Found In The U.S.
Saguaros are the largest cactus currently found in the United States. They normally reach heights of close to 40 feet tall. The tallest known saguaro cactus measured a total of 78 feet.
Fact 6: Adult Saguaros Can Weigh Up To 6 Tons
Yes, you read that correctly – 6 tons! A saguaro is considered an "adult" when it hits age 125. Most saguaros that stand around around 50 feet tall will weigh an average of 6 tons.
Fact 7: Saguaros Won't Grow Flowers Until They Are At Least 35 Years Old
A saguaro won't begin to produce flowers until age 35. These flowers are normally found at the end of the main trunks, but can also grow on the sides of the plant.
Fact 8: Saguaros Are Also Known As Carnegiea Gigantea
Don't like using the name saguaro cactus? Impress your friends by calling them by their other name, Carnegiea Gigantea.
Fact 9: The Roots Expand Like An Accordion To Absorb Water
Saguaro roots grow outward in a radial fashion. When heavy rain comes, the saguaro stretches like an accordion to absorb as much water as possible.
Fact 10: Saguaros Produce Red Fruits In The Summer
Usually in the month of June, saguaros will produce beautiful red flowers. These colors will certainly stand out in the Sonoran Desert.
Saguaro Cactus For Sale
If you are interested in increasing the beauty of your landscape by buying desert plants, stop by our convenient location at 33840 N. Cave Creek Rd., in Cave Creek. For customers interested in our landscaping services, give us a call at (480) 488-9455 to schedule a visit to your home.
More Articles About Arizona Landscaping