Desert Landscaping Phoenix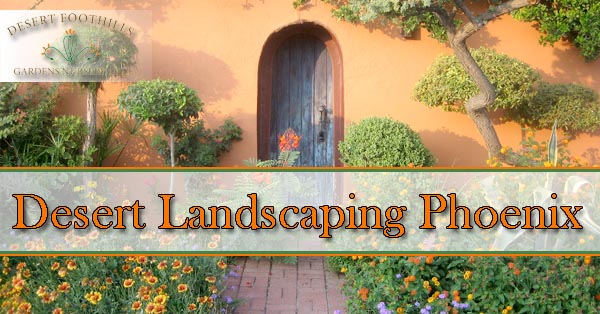 Phoenix is hot and dry for much of the year. With limited natural rainfall water is a precious resource. Desert landscaping in Phoenix is more than just about saving water, it is the art of creating beautiful and low maintenance landscapes that flatter residential and commercial properties.
Simply tearing out the grass and dumping a few truckloads of gravel on your property might cut down on water usage, but lacks in visual appeal and can impact your property value. Planning, plant selection, and overall design is key to starting right and achieving the look that will add value to your property.
Planning and Landscape Design
Having a plan in place helps home and business owners get the best look for their landscape. It also helps with planning for function, cost of construction, maintenance requirements, aesthetic preferences, and the water efficiency of the landscape. Design phases and choices can be tailored to fit the budget, tastes and needs for each individual property. Many owners like to do improvements in phases to help spread the cost of switching over to desert landscaping. Having the plan in place will make the process more affordable and help prevent costly mistakes and excessive time.
Desert Plant Selection
There are deserts all over the world and there is a wide selection of both transplant and native plant species. Desert Foothill Gardens carries hundreds of low water use desert plants that thrive in our hot and dry environment. While the native plants have been available for many years, new species of desert plants are always making their way to Arizona and can and the unique, one of a kind flair to your landscape.
The desert plants come in all sizes and shapes and can serve a wide variety of functions. They can serve to provide a burst of color at time of year, screen off and hide unsightly areas, and even provide shade in your landscape. These plants can feature other worldly shapes and amazingly bright and vibrant colors in flowers that bloom. Best of all these plants require significantly less water than traditional plants you find in other regions of the country.
Limited Grass Turf Areas
While true desert landscapes rarely feature grass areas, it isn't always desirable for Phoenix residents to completely give up their lawns. Lawns do require more water than desert landscapes, but they can be limited to smaller spaces that flatter the landscape and provide areas for children or sports minded family members to still have a place to play. Selection of grass species and efficient watering equipment and schedules help manage the water usage of these features in your landscape.
Intelligently Efficient Irrigation
All new plants require regular watering to help them get established in their new homes. This is especially true in the desert and careful planning will help you get your desert plants established and create a plan for sufficient, but minimal watering as they mature. The key in creating water plan is knowing the water requirements for the plants you have chosen to put in your landscape. This element can greatly influence the choices some homeowners make when selecting plants for their landscape to achieve absolutely minimal water usage.
Planning your watering system will include having separate values for your groundcovers, shrubs, trees, and turf areas. They all require a different amount of water and simply having one valve will use more water than many of the plants require and create a less efficient system. Watering can generally be reduced as plants age over the first couple of years and especially during the cooler months. In fact your watering schedule should be adjusted for all of the seasons.
Mulch For Water Retention
Desert landscapes frequently include the use of mulch to help the soil retain moisture. In addition to helping the soil stay cool mulch also helps prevent erosion and the growth of weeds. In Phoenix the most popular types of mulch or wood grindings and bark chips. These materials are used in planting beds and sometimes to frame walkways. Flowers, leaves, and fruit can also be allowed to stay on the ground in desert landscapes and add to the natural mulch that will help minimize water consumption. Inorganic mulches are also widely popular and are made from crushed rock and decomposed granite.
Desert Landscaping in Phoenix
Desert Foothills Gardens Nursery, Inc. has been Phoenix's source for design, plan selection, and maintenance since 1985. We have a team of experts that help with the overall plan for your desert landscape that includes plant selection, design, irrigation, and water management strategies. If you are interested in seeing how Desert Foothills Gardens Nursery, Inc. could provide a low maintenance and low water use landscape at your home or business either stop our nursery at 33840 N. Cave Creek Rd. in Cave Creek or give us a call at 480-488-9455.