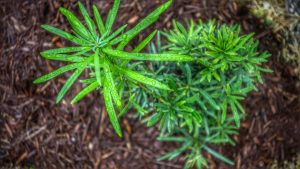 Gardeners will use both wood chips and mulch in order to provide a plethora of plant species with nutrients and safeguard against any harmful agents. Even though the definitions of both mulch and wood chips are similar, the two are used for several different reasons in the gardening/landscaping universe.
Mulch
Mulch is a type of non-living, organic material that can be dispersed across the top of the soil. It is intended to cover anything that was planted beneath the surface. Mulch is used as an overall term, as countless materials fall under the category.
Among others, materials you can include newspaper (with organic dyes), composted wood chips, tree bark, leaves, and straw. Shredded leaves are the most universal form of mulch because they are free and can be found naturally in your yard. Wood mulch is also favorable, as it is also natural and light to carry to various areas.
Mulch Types
Organic mulch can consist of:
Hay/straw
Grass clippings
Bark
Pine needles
Leaves
Wood chips
Compost
And more!
In-organic mulch is comprised of:
Gravel
Pebbles
Crushed stone
Rubber
Man-made pine needles
Plastic sheets
Woven ground cloth
And more!
As a type of organic mulch, wood chips are a popular alternative for those with landscape needs.
Using Wood Chips As Mulch
Wood chip mulch consists of small pieces of ground up wood or bark. Using wood chip mulch has proven beneficial for the growth of trees, small fruit species, perennials and shrubs. This mulch will heighten survival rates for smaller trees, while also preventing damage to some plants during rainstorms.
The recommendation here is to apply two to four inches of wood chip mulch in a diameter of three to six feet around the base of the plant or tree in need of mulch. Adjust any measurements for larger or smaller trees.
Mulch Vs Wood Chips
Simply explained, wood chips are the by-product of wood chipping, which is breaking down wood and/or bark. Wood chip mulch can be hazardous to gardens or landscapes when used incorrectly. If you leave the wood chips outdoors in a large pile for an extended period of time, acids may be created due to the lack of circulating oxygen.
Mulch, meanwhile, embodies any material situated atop the surface of soiled plants. Mulch will decrease water evaporation, weed population and balance out soil moisture, among other beneficial uses.
Desert Plants For Sale
If you are interested in increasing the beauty of your landscape by buying desert plants, stop by our convenient location at 33840 N. Cave Creek Rd., in Cave Creek. For customers interested in our landscaping services, give us a call at (480) 488-9455 to schedule a visit to your home.
More Articles About Arizona Landscaping