Landscape Boulders Price In 2022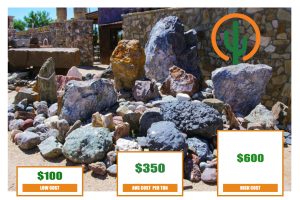 Boulders can change the way your residential or commercial landscaping project looks and feels. How much do landscape boulders cost, though? This post will detail prices, including installation and delivery costs.
How Much Do Landscape Boulders Cost?
Lowest price per ton: $100.
Highest price per ton: $600.
Minimum installation cost: $40.
Maximum installation cost: $300.
Boulder prices can vary based on quantity and quality, as is generally the case with any landscaping material. The first thing any homeowner needs to consider when purchasing boulders is size. How do you plan on spreading these boulders throughout your property? Would a few large boulders work or do you want to spruce up your land by adding an abundance of boulders? The good news is many landscape material companies will offer bundle discounts if you're looking for a large amount of boulders. But, keep in mind that professional delivery may be necessary when you purchase heavy boulders.
Check with the landscape material companies ahead of time to see if installation is included with any boulder costs. Some companies will include the installation as part of the total price. Deliveries and installation can be costly when considering the amount of materials and length of delivery. If you are attempting to transport these boulders yourself, do not underestimate the weight!
Types Of Landscape Boulders
Boulders are an increasingly popular option for residential and commercial landscaping projects, especially in Arizona. Landscape boulders can be used in a variety of ways. Boulders can surround and add beauty to a walkway or body of water. Placing the boulders to act as natural stepping stones can be another aesthetically-pleasing option. Boulders are excellent as seating around a firepit, as well. Another way boulders have been used is in the construction of a wall surrounding plants or other objects in the yard.
All of your landscape boulder and rock needs can be taken care of at Desert Foothills Gardens Nursery! This nursery offers a variety of boulders, from Grand Canyon boulders all the way to granite boulders. Take a look at the full boulder photo gallery of Desert Foothills Gardens Nursery by clicking here.
Landscaping Boulders In Arizona
If you are interested in increasing the beauty of your landscape by buying desert rocks, stop by our convenient location at 33840 N. Cave Creek Rd., in Cave Creek, give us a call at (480) 488-9455 to schedule a visit to your home.