SAGUARO CACTUS FOR SALE PHOENIX
Native Plants • Drought Tolerant Plants • Water Fountains • Unique Accessories
SAGUARO CACTUS FOR SALE IN CAVE CREEK & PHOENIX, AZ
Are you searching for "Saguaro Cactus For Sale in Phoenix"? If so, Desert Foothills Gardens Nursery can help! To buy Saguaro Cacti for sale in Phoenix, give us a call today at (480) 488-9455 or stop by our desert plant nursery.
At Desert Foothills Gardens we have an extensive desert plant nursery with a vast selection of desert flora to fit any outdoor space you may have. We offer aloe, desert shrubs, cacti, flowering cacti, grasses, bougainvillea, as well as yuccas. With many satisfied customers in Cave Creek, Glendale, Scottsdale, Peoria, Paradise Valley and other cities in the northern Phoenix area of the valley.
OUR CACTUS INVENTORY CHANGES ALMOST DAILY SO WE RECOMMEND COMING IN AND SEEING OUR SAGUARO CACTUS SELECTION IN PERSON!
Saguaro Cactus For Sale
The Saguaro cactus is indigenous to Arizona and is one of the most recognizable parts of the Sonoran Desert. The cacti grow to be larger in size as columnar plants which may or may not grow arms or branches as they get older. Most arms that grow tend to bend skyward and have been known to number in excess of 20 limbs.
Saguaro Cactus Natural Habitat
Saguaros are naturally found in the Sonoran Desert. For this cactus, temperature and water are the two most important growth factors. Winter weather and elevation play a big factor in growth, and can potentially kill your Saguaro. While the Saguaro collects water from both the summer and winter rains, for the most part the water it absorbs is during the desert monsoon season.
Saguaro Cactus Natural Location
Saguaro cactus can be found in southwestern Arizona, western Sonora, Mexico, and even a few in southeast California. In the northern areas, they are usually found on the south facing slopes where the sun is more prolific. The Saguaro Cactus produces a red fruit in the summer, small white flowers in the late spring, and is covered with protective needles.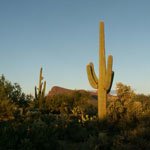 The suguaro cactus, also known as Carnegiea Gigantea, only grows in the Sonoran Desert.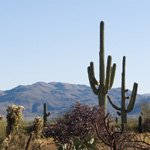 The saguaro cactus is the largest cactus in the United States.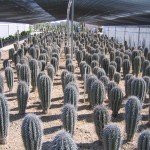 Saguaros can live up to 200 years and grow as many as 25 arms!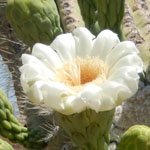 In the first 8 years of a Saguaro's life, it will only grow around one to one and a half inches.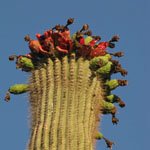 It is illegal in Arizona to move a saguaro cactus off of private or public property without a permit.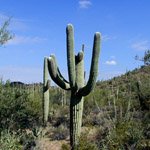 An adult saguaro may weigh up to 6 tons, and is primarily made up of water.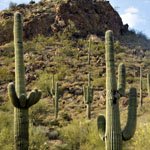 The roots of a saguaro expand like an accordion to absorb as much water as possible.
A saguaro must be 35 years old before it can grow any flowers, and the bloom of the saguaro is Arizona's state flower.
PURCHASING YOUR SAGUARO CACTUS
Since the Saguaro grows so slowly, bigger specimens are highly sought after. When grown under a protected and monitored nursery growing conditions they are excellent specimens and are generally wider than those that grow in their natural habitat. This is because of the plentiful water and pest control that nurseries offer to them. Your choice in size will directly impact the cost. You may choose to start from the beginning with seeds, buy one in a box, or even choose to buy more mature and larger cactus. For more information about Saguaro pricing and availability please call us at 480-488-9455.
The saguaro is a singular type of plant which can grow to be very large, but grows very slowly. The weight and overall height of the saguaro can be unbelievable and the beauty of the plant is iconic and historical to the great state of Arizona.
Arizona has regulations and restrictions for the collection, harvesting, and destruction of these cacti. Contact your local municipality for more information about the regulations in your area.
With the right growing conditions, the Saguaro can live anywhere from 150 to 200 years.
The cactus has one main root that goes down about 2 feet while all the rest of the roots continue out about as far out as the plant is tall and only about 5 inches underground.
The Saguaro grows especially slowly. After a full decade of growth, a saguaro might only be about one and a half inches tall. Given the correct conditions they can eventually reach as high as 40-60 feet in height! A fully hydrated Saguaro might weight between 3,200 and 4,800 pounds after a rainy season.
Saguaro "ribs" can be collected according to Arizona law, and are used to make jewelry, build furniture, roofs, fences, picture frames and more. Before the canteen was invented even the Native Americans utilized the ribs as water containers.
HOW MUCH DOES A CACTUS COST?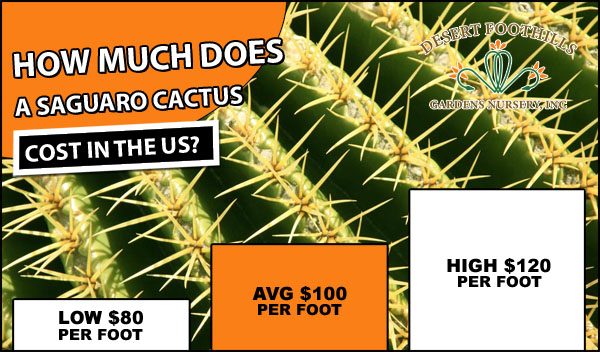 Saguaro cactus costs about $100 per foot, with average prices ranging from $20 to $2,000 in the US for 2020 according to DFRanchandGardens.
osieOnTheHouse says, "The smaller the saguaro, the less it will cost. But generally, they go for about $100 or more a foot if they are just spears and are in excellent condition. Saguaros with arms are more costly."
6in Saguaro Cactus: $20.00
12 in Saguaro Cactus: $40.00
18 in Saguaro Cactus: $75.00
24 in Saguaro Cactus: $150.00
3ft – 7ft Saguaro Cactus: $80/ft
8ft – 20ft Saguaro Cactus: $100/ft
SAGUARO CACTUS SALES IN PHOENIX
*Not all products on the pages are in stock all of the time.

Please call ahead to verify (480) 488-9455 (just to be safe).  Thank You!