Native Plants • Drought Tolerant Plants • Water Fountains • Unique Accessories
CACTUS NURSERY PHOENIX & CAVE CREEK
When you're searching for "Cactus Nursery Near Me", "Cactus Nursery ", or "Saguaro Cactus For Sale", near Phoenix, Cave Creek, or Scottsdale, Desert Foothills Nursery, Inc. can help!  We are pleased to grow and sell a wide variety of cacti in the West Valley of Phoenix. Cactus are a great way to add a little bit of desert to your landscape in Arizona!
At Desert Foothills Gardens we have an extensive desert plant nursery with a vast selection of desert flora to fit any outdoor space you may have. We offer aloe, desert shrubs, cacti, flowering cacti, grasses, bougainvillea, as well as yuccas. With many satisfied customers in Cave Creek, Glendale, Scottsdale, Peoria, Paradise Valley and other cities in the northern Phoenix area of the valley.
The cactus is perfectly suited to life in an arid climate like Arizona. The cactus, particularly the saguaro, has become a symbol of the American southwest. These are large plants with tree-like cylindrical cacti that grow multiple "arms" as they mature, even though some may never grow arms. These arms typically bend upward and can number over 20 of them. In the right conditions Saguaro cactus can live up to 150-200 years.
Cacti are plants that have succulent stems, pads or branches usually with spines and spikes instead of leaves. The Cactus' pads are essentially mutated stems with a wax like coating. The prickly spines are modified leaves that splits up the evaporative winds that blow across the pad's surface and helps keep the stem in the shade. Root systems are usually wide and shallow, and rainwater is absorbed quickly. The cactus has small rain roots that actually grow as soon as the soil around the cactus is moistened by rain and will later dry up.
Cacti use CAM photosynthesis, a process unique to succulents, such as cactus. In CAM photosynthesis, the cactus stomata open at night when the plant is cooling down, so smaller amounts of moisture are lost during transpiration. However, for photosynthesis to take place it also needs sunlight. The CAM photosynthesis process allows for a way of chemically storing the carbon dioxide until the sun comes back out again, when the whole process is completed. Stomata are like little windows; they need to be open to let air and water in or out, but sunlight can come in even when they are closed.
Cactus offer a variety of colors, shapes, and sizes so you can find one that best suits your personality and landscape style. And if they get adequate sunlight, many will bloom, producing flowers that come in a wide variety of colors. In spite of their prickly armor, they are not resistant to predators. Many rodents eat away at the cactus pads, and other mammals, including humans, enjoy the pleasant red fruit of the prickly pear cactus. Create a sense of peace and harmony with your outdoor space with the creative vision and selection of Desert Foothills Gardens!
YOU CAN SEE SOME OF OUR PLANTS PICTURED BELOW TO GIVE YOU AN IDEA OF WHAT WE CARRY, HOWEVER OUR INVENTORY CHANGES ALMOST DAILY SO WE RECOMMEND COMING IN AND SEEING OUR DESERT PLANT AND TREE NURSERY IN PERSON!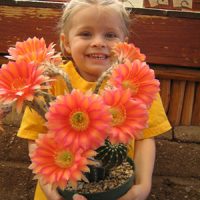 EASTER CACTUS
Also known as the Spring Cactus, these cactus have numerous, vividly colored blooms in the spring.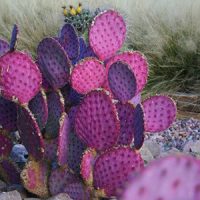 PURPLE PRICKLY PEAR CACTUS
This Sonoran native grows in clumps much like a shrub and its pads develop a purple tinge in the Phoenix winter.
SAGUARO CACTUS
Small and large saguaro cactus for sale. Saguaros can live up to 200 years and grow as many as 25 arms.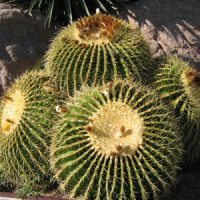 GOLDEN BARREL CACTUS
This spherical cactus lives for about 30 years and is also known as the Golden Ball or Mother-in-Law's Cushion.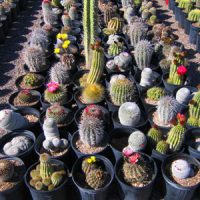 FLOWERING CACTI
We offer a wide selection in our cacti nursery in Cave Creek. Visit for our current selection.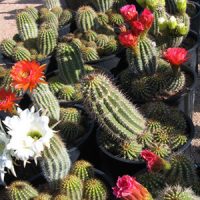 TRICHOCEREUS
Sometimes called Torch Cacti, these cacti burst with bright, large flowers in early May.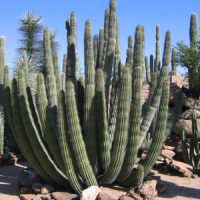 ORGAN PIPE CACTUS
Available at specimen size, the Organ Pipe cactus rises from the ground in several narrow stems.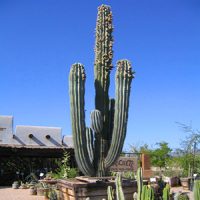 CARDON CACTUS
We offer the branching Cardon cactus in all sizes.
DESERT FOOTHILLS GARDENS SELLS SAGUARO CACTUS FOR SALE
If you live in Phoenix, Cave Creek, or Scottsdale; Desert Foothills Gardens Nursery, Inc. is your local cactus nursery option that carries the finest cactus in the Valley of the Sun.  We grow of our cactus right here in in the valley, so they're used to the soil, sun, and heat of the valley.  For more information about purchasing a cactus either swing by our location in the West Valley or call us (480) 488-9455.
*Not all products on the pages are in stock all of the time.

Please call ahead to verify (480) 488-9455 (just to be safe).  Thank You!